The Benefits Of Exfoliating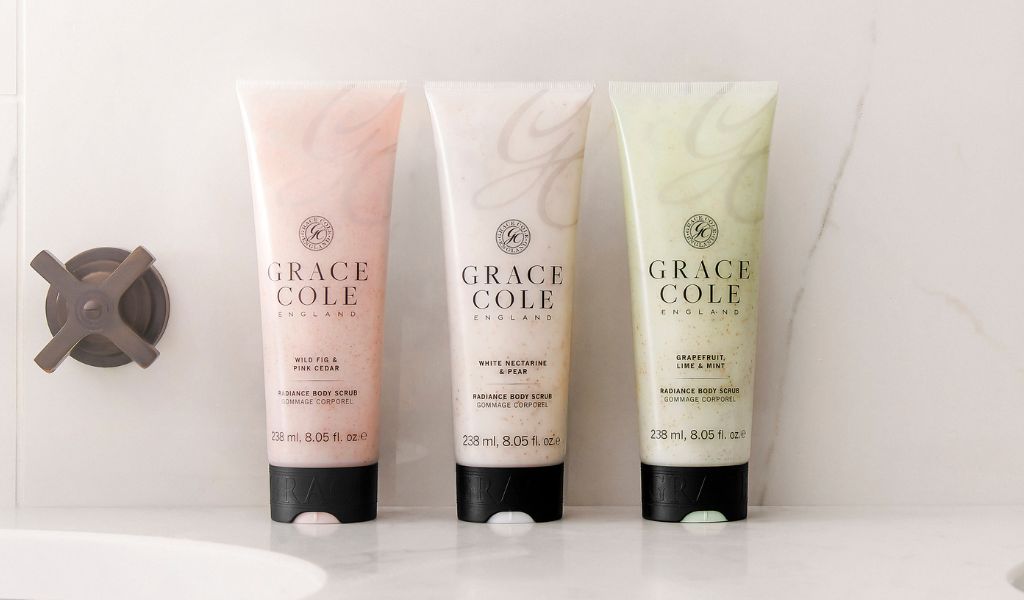 February is the month of love and showing appreciation for others, whether that be to partners, friends, or family members. This can make it difficult to set aside time for us for some well needed (and deserved!) me time and self-care. So, this February, we are all about prioritising self-care, starting with skincare routines. With the weather still cold, our skin needs a little bit more TLC due to it being drier than usual. One of the best ways to buff away dry skin is through regular exfoliation.
Exfoliating is the process of removing dead skin cells from the surface to reveal fresh, glowing skin. Our skin naturally sheds dead skin cells to make room for fresher, brighter skin in the process of what we call skin cell turnover. However, as we age, this process slows down dramatically. As adults, those dead skin cells don't shed completely, resulting in dry, flaky patches of skin and clogged pores. That's where exfoliating comes in to play. For the best results, it is recommended to exfoliate the skin twice a week.
Grace Cole Body Scrubs contain Sweet Almond Shell Powder to provide gentle exfoliation  and leave skin feeling smooth and looking radiant. Available in six of beautiful fragrance collections, they also contain key extracts of Aloe Vera Leaf Juice for moisturisation, Rice Germ Powder which is rich in amino acids and Sunflower Oil which is rich in antioxidants.
Below, we talk you through our top four benefits of exfoliating your skin regularly:
Helps to unclog pores
When our pores are blocked, it's usually because excess oil is trapped under a layer of dead skin cells. However, you can remove those dead skin cells and excess oil through regular exfoliation, resulting in pores looking smaller and skin looking healthier. The Grace Cole Grapefruit Lime & Mint Radiance Body Scrub, formulated with grapefruit extract which is rich in vitamins, minerals, and antioxidants is the ultimate scrub to help replenish skin and remove impurities from the skin.
Improves and evens skin tone and texture
If you struggle with hyperpigmentation or uneven skin texture, exfoliating is the one of the best things you can do to improve this. This is because when you exfoliate, you're removing dead skin cells to reveal healthy and glowing skin underneath. Try the Grace Cole Vanilla Blush & Peony Radiance Body Scrub as part of your evening shower or bath routine, formulated with peony root extract which is a natural antioxidant to help the skin boost its clarity.
Increases blood circulation
One of the benefits of body exfoliation is that it increases blood circulation. By doing this, it provides the skin with oxygen and nutrients which promotes overall healthier and younger looking skin. Regular exfoliation benefits skin all year round, but it's especially beneficial during the winter months when skin needs a bit of extra TLC. The Grace Cole Nectarine Blossom & Grapefruit Radiance Body Scrub is formulated with an antioxidant powerhouse of vitamins A, C and E which help to destroy excess free radicals.
Helps other skincare products work more effectively
Since body exfoliation removes dead skin cells and unclogs pores, it makes it easier for skincare products to get absorbed. When the skin is clogged with dirt, it becomes difficult for the skin to absorb skincare products. Making sure you regularly exfoliate will remove that barrier and allow your skin to better absorb other skincare products such as moisturisers. The Grace Cole White Nectarine & Pear Radiance Body Scrub, contains pear fruit extract which is packed with vitamins and alkaline elements to cleanse the skin and make it glow. Finish with the Grace Cole White Nectarine & Pear Body Butter, formulated with marula oil and shea butter to provide and lock in moisture to the skin.