Show Yourself Love This Valentine's Day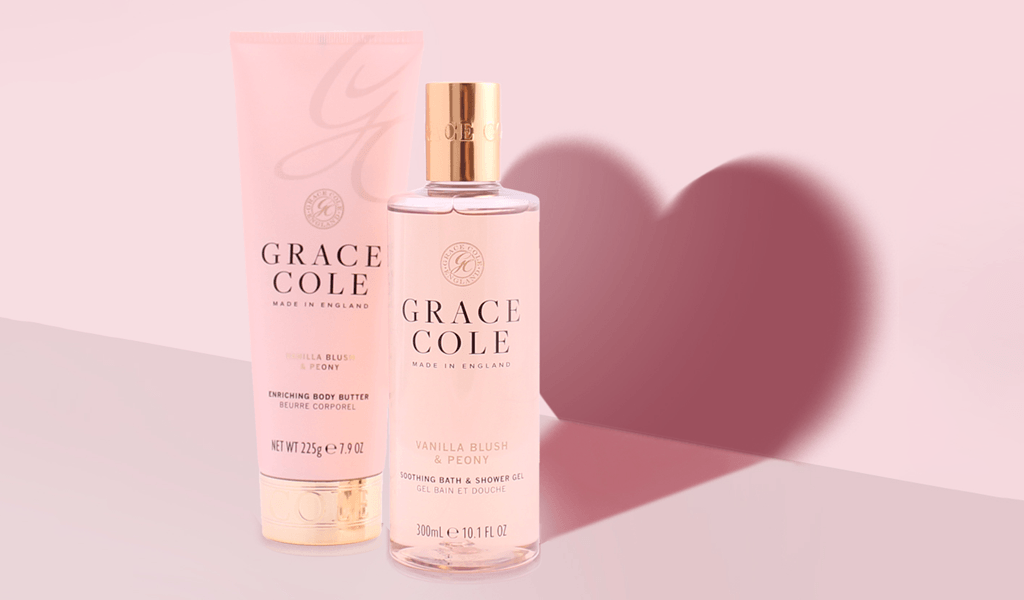 Valentine's Day is here, and whilst that usually means showing love or appreciation for others, don't forget to show yourself some love too! Investing in yourself is one of the most important things you can do, so make sure you do one small thing for yourself this Valentine's Day. Here are a few simple tips for an evening of self-love...
Have a self-care night
Take some time to yourself with a self-care night in, set the mood by lighting your favourite Grace Cole Candle and run yourself a relaxing bath. Follow up with our indulgent Grace Cole Body Butter to nourish your skin and soak up the wellness enhancing benefits of our essential oils. Our Vanilla Bush & Peony collection makes the perfect addition to a pamper night, thanks to its comforting and calming blend of orange, lemon and patchouli essential oils to relieve stress and anxiety.
Treat yourself!
Give yourself permission to spend money on yourself – you deserve it! It doesn't have to be an extravagant gift either, it could be as simple as buying yourself a coffee in the morning from a café or treating yourself to your favourite flowers. Who says you need someone else to buy something for you? You deserve to treat yourself to something nice and to put a smile on your face.
Cook yourself a nice dinner
A really good way to switch off and put your mind to something positive is to cook something for yourself. Whether that be your favourite dish or a new recipe, cooking yourself something tasty with a relaxing playlist playing in the background is a great way to relax.  
Take some down time
We are all guilty of being on the go all the time, constantly connected to our screens, and caught up in the hustle of daily life. Show yourself some gratitude and mindfulness and make a conscious effort to really relax, that means switching off screens and putting your mind to something more relaxing. Whether that is watching your favourite show or reading a new book, this will allow your mind to feel rested as well as your body.
Have a pamper evening with a friend
Why not get your single friends together and have a pamper night in this Valentine's Day. This can be just as fun as a date night! Make your favourite cocktail, some yummy food and pamper yourselves. Create an atmosphere to really relax and unwind with our Ginger Lily & Mandarin Diffuser, featuring a balancing blend of essential oils of warm Mandarin to bring soothing qualities along with wonderfully nourishing Jasmine bringing a balanced, soft aroma into the atmosphere. Then, treat each other to a DIY manicure. Smooth a Grace Cole rich and nourishing Hand Cream into your hands and enjoy long-lasting fragrance and moisture. Finish with your favourite nail colour.
Show appreciation for yourself!
Whether it's a special talent you have, or something quirky you love about yourself, don't forget to show yourself appreciation for these qualities this Valentine's Day. The day of love doesn't have to just be about loving a partner or someone else, it is about love in general, and the most important person in your life is yourself!