Say Goodbye to Dry Skin: Our Body Care Solutions for Summer Hydration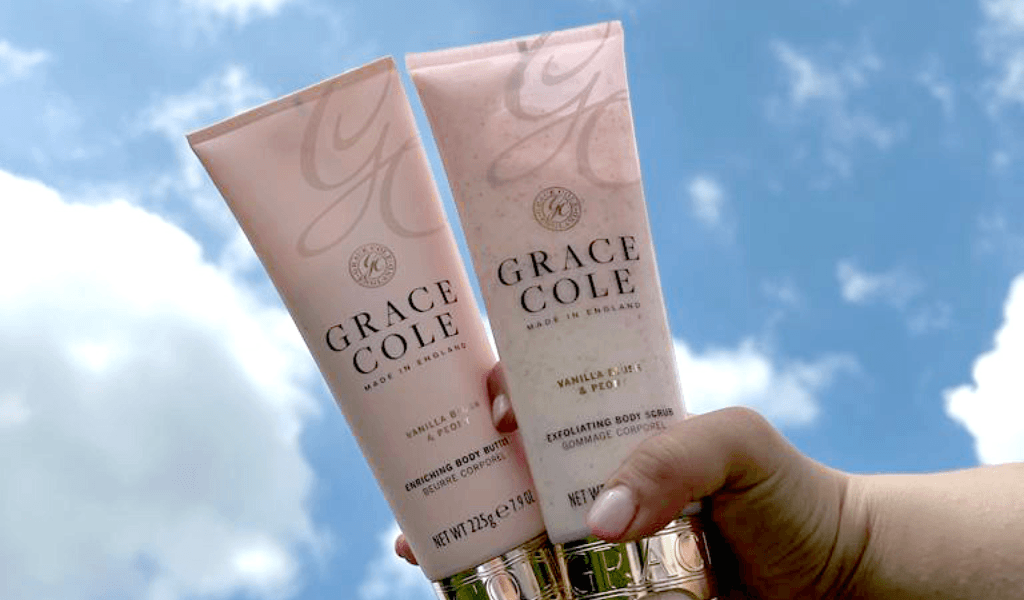 Summer weather can really take a toll on our skin, leaving it feeling dry and thirsty. However, with these simple top tips, you can bid farewell to dry skin. Below are our recommended body care solutions for keeping your skin hydrated and glowing all summer long.
Use a Moisturising Body Lotion: Velvety rich and indulgently creamy, our Grace Cole Hand & Body Lotions are perfect for keeping your skin soft, supple & hydrated all day long. Why not try out our Nectarine Blossom & Grapefruit Moisturising Hand & Body Lotion? Packed with antioxidants such as Mandarin Fruit Extract and Grapefruit Extract, this lotion will replenish and nourish your skin whilst infusing your skin with long-lasting fragrance.
Drink Plenty of Water: Staying hydrated from the inside out is crucial for maintaining healthy and hydrated skin. Make sure you are drinking an adequate amount of water throughout the day to keep your skin moisturised.
Exfoliate Regularly: Exfoliation helps to remove dead skin cells and allows moisturisers to get deeper into the skin. Our Grace Cole Body Scrubs are designed to make your skin glow, leaving it feeling smooth and looking radiant. Why not try our Vanilla Blush & Peony Radiance Body Scrub? The Peony Root Extract is a natural antioxidant known to help boost skin clarity, whilst Water Lily Extract helps to moisturise and soothe dry, irritated skin.
Take Shorter, Lukewarm Showers: Long, hot showers can strip the skin of its natural oils, leading to dryness, so opt for shorter showers with lukewarm water to prevent excessive moisture loss from your skin.
Use a Hydrating Body Wash: Choose a gentle and hydrating formula to cleanse your skin with. Our White Nectarine & Pear Soothing Bath & Shower Gel contains Pear Fruit Extract which helps to gently cleanse the skin, whilst Aloe Vera Leaf Juice provides moisturising, nourishing and soothing effects to help skin maintain its moisture.
Apply Sunscreen Daily: Protecting your skin from the sun is crucial, especially during the summer months. Opt for a sunscreen with an SPF of 30 or higher and apply it generously to all exposed areas of your body. Sunburn can lead to dry, peeling skin, so proper sun protection is essential for maintaining hydration.
Moisturise Immediately After Showering: After showering or bathing, pat your skin dry with a towel and apply a moisturiser whilst your skin is still slightly damp. This will help to seal in moisture and enhance your hydration. If you have dry skin, consider trying our Grace Cole Body Butters which have a rich and luxurious texture. The formula harnesses the moisturising powers of Shea Butter to leave your skin feeling nourished and hydrated.
Wear Breathable Fabrics: Choose lightweight, breathable fabrics like cotton or linen to allow your skin to breathe. Avoid tight clothing that can trap sweat and moisture against your skin, leading to dryness and irritation.
Stay Hydrated on the Go: By layering a body mist throughout the day, the hydrating formula will leave you feeling refreshed and lusciously fragranced. Our Grapefruit, Lime & Mint Refreshing Body Mist is a luxurious addition to your daily beauty ritual, with a uplifting and refreshing fragrance, it contains essential oils of Peppermint, Orange, and Clary Sage to brighten the mood. So you can both smell great and feel hydrated and fresh!
So bid farewell to dry skin and welcome a season of smooth, nourished, and radiant skin. Incorporate these points into your daily routine and you'll be able to effectively combat dryness and maintain optimal hydration levels for your skin. Hello hydrated, glowy skin!