Our Top Tips For Enhancing Your Wellbeing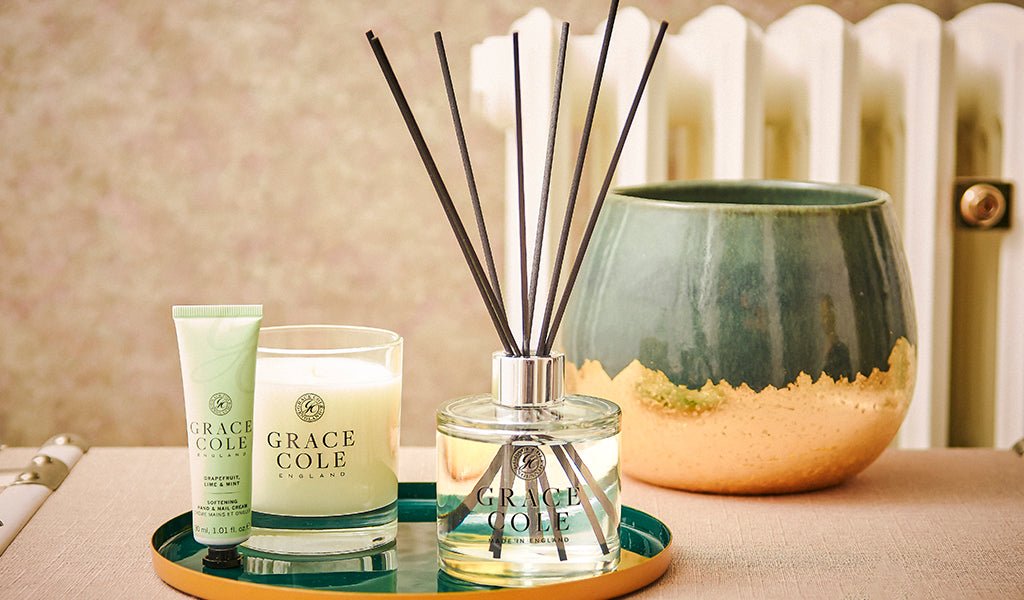 After all the festive cheer that Christmas brings, January can seem like the gloomiest month of the year. With the cold weather still here and the days being shorter, it's no surprise that many people find themselves feeling lower than usual. However, January should be seen as an opportunity for new beginnings and a chance to create some new good habits for 2023. Here at Grace Cole, we've come up with some top tips on how to beat the January blues and get your year off to a positive start…
Set a new routine – that you will stick to!
We've all used the common saying 'New Year, New Me' and given ourselves tough new years resolutions that we often break by the time January is over. Rather than setting extreme new year's resolutions that we know we won't stick to, this year we're setting intentions and small goals instead. Whether it's your bedtime or skincare routine, develop one that is personal to you and stick to it. Instead of scrolling on your phone until bedtime, make a conscious effort to limit your screen time at least 1 hour before bed and read a book with your favourite Grace Cole Candle lit to create the perfect ambience. With the cold weather drying out skin, getting into the habit of keeping skin moisturised is so important. Use your favourite Grace Cole Body Butter every night to keep your skin soft and moisturised! The Grace Cole Nectarine Blossom & Grapefruit Body Butter, is enriched with essential oils of orange and thyme to uplift and energize the soul. For a hit of moisture on the go, keep your Mini Hand & Nail Cream with you in your handbag. 
Get outside more
During the Winter months, our exposure to daylight is limited. Not getting enough natural light can have a negative effect on our physical and mental well-being, affecting important hormones in our bodies. Wrapping up warm and getting outside in the fresh air for at least 30 minutes a day can benefit you hugely. Use this time to call a friend you've been meaning to catch up with or get lost in your favourite podcast. If you're not able to get outside every day, try to make your home as light and airy as possible by leaving blinds and windows open to let in daylight.
Reach out to friends and family
With us going back to work in January, it can be easy to get swept up in our daily lives and forget to catch up with those friends and family members we've been meaning to contact. Spending time with friends and family is one of the simplest yet effective ways to improve mental health, and this can be as simple as a walk or even a Facetime call. Remember that what you see on social media usually isn't all it appears to be, so you never know how appreciative that person may be for you to reach out. If you know a friend or family member is feeling low, why not send them a care package or a small token gift such as a Grace Cole Hand or Body Care Pampering Duo Sets to cheer them up and help them beat the January blues.
Take time for yourself
After the busy festive season, we're all in need of some TLC and me-time. It might sound like a lot to some people due to busy schedules, however setting aside 1 hour each day to yourself is an effective self-care strategy. Use this time to sit alone and reflect on your thoughts and plan for the week ahead. Run yourself a hot bath or write in your journal any thoughts you have. These are both two self-care activities that are proven to improve mental health. Place your Grapefruit, Lime & Mint Diffuser or Candle next to you to relax and re-center yourself. Containing essential oils of peppermint, orange and sage to brighten the mood and revive and invigorate you.
Do more of what you enjoy
If you have a hobby you love doing, spend more time doing it. Or if you are yet to find a hobby you enjoy, create a resolution for yourself to find out what it is. Whether it's taking that course, learning a new language or starting a new dance class, learning something new can be fun, expand your mind and build confidence.
Prioritise sleep 
We're all guilty of skipping out on sleep sometimes and not sticking to a good sleep routine. However, sleep has a huge impact on mental health and well-being so making a conscious effort to get 7-9 hours of sleep a night is important. There are ways to improve the quality of sleep by developing a better routine before bed. Making your bedroom as comfortable, quiet and dark as possible, as well as limiting screen time 1-2 hours before bed are proven ways to help drift off easily and get a better nights sleep. Incorporating essential oils to your bedtime routine can also help to relax and encourage a deeper, more restful sleep. Use the products in our Vanilla Blush & Peony Range such as our Bath & Shower Gel to help you unwind after a stressful day, with its essential oils of orange, lemon and patchouli.
Eat a balanced diet
Good nutrition is closely linked to how we feel, so eating a healthy and balanced diet can improve your mood drastically. When you're feeling lower than usual, you're more likely to turn to comfort food and either eat too much or too little. Making sure to eat a varied and balanced diet full of different food groups is vital. And by this, we don't mean limiting yourself completely to fruit & veg (it's still ok to treat yourself to a biscuit!), however doing this in moderation is most effective.