Wrap Sustainably This Christmas With A Furoshiki Wrap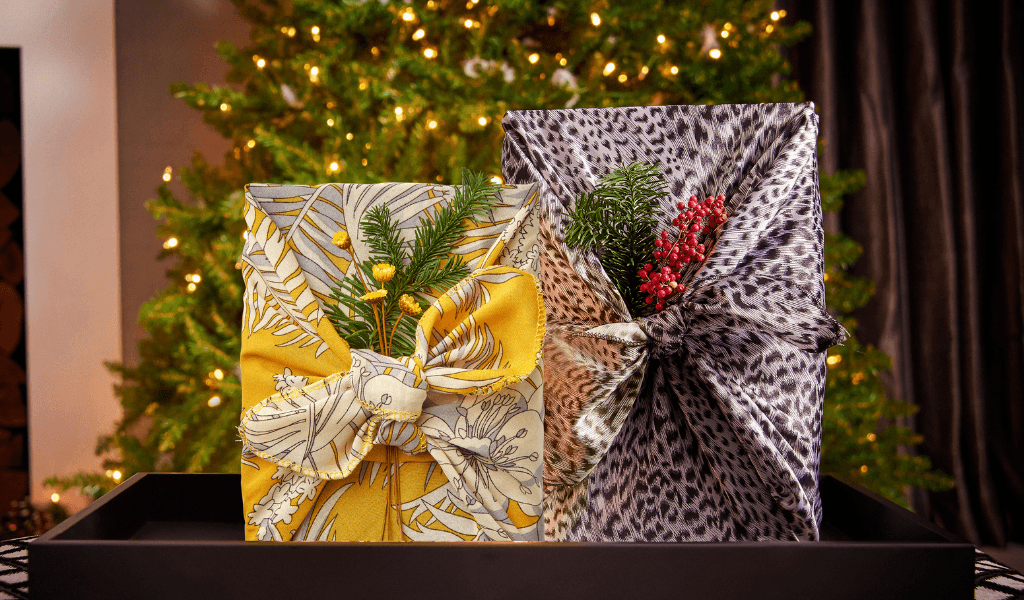 Here at Grace Cole, we are always seeking ways to become more sustainable as a brand, not only in our daily lives but also over the festive season. When it comes to gift-wrapping, why not opt for the eco-friendlier option and gift your loved ones something special using a furoshiki wrap?
So what exactly is a furoshiki wrap and what is it used for?
Furoshiki is an ancient Japanese tradition that uses techniques similar to origami and has traditionally been used to transport belongings and presents. While Japanese culture is not alone in using fabric wrapping, furoshiki has an original style reflecting interest in beauty, multi-functional objects and thoughtful detail in their approach to everyday living. Not only does gifting loved ones a beautiful and bespoke gift show a sign of love, but wrapping them in a thoughtful way allows you to express your creativity and care for the environment. 
There are many different ways to use a furoshiki wrap, making it both a multi-functional yet beautiful product. Here are just a few things a furoshiki wrap can be used for:
Wrapping a gift or objects
Shopping bag
Tablecloth
Scarf or hair tie
Handbag accessory
Picnic hamper
This festive season, we are offering Grace Cole customers a free furoshiki gift wrap when you purchase two or more products. Wraps are available in two different sizes, a small wrap if you purchase up to two products and a large wrap if you purchase up to four products. With three beautiful patterns to choose from, simply select your favourite at the checkout.
How to wrap
We've put together a step-by-step guide on how to beautifully wrap your gifts using your furoshiki wrap.
Place the gift in the center of the cloth on a diagonal. 
Take two opposite corners of the square and tie them into a knot in the center; if the ends are long, you can tuck them in.
Tuck any untidy edges into the cloth folds.
We hope this step-by-step guide provides some inspiration for wrapping your gifts this Christmas, why not make a start on your gift wrapping now (it's never too early to make a start!) We can't wait to see your beautiful furoshiki creations this festive season, don't forget to tag us @gracecoleltd for the chance to be featured on our Instagram!