Make Christmas Scent-sational: How To Scent-Scape Your Home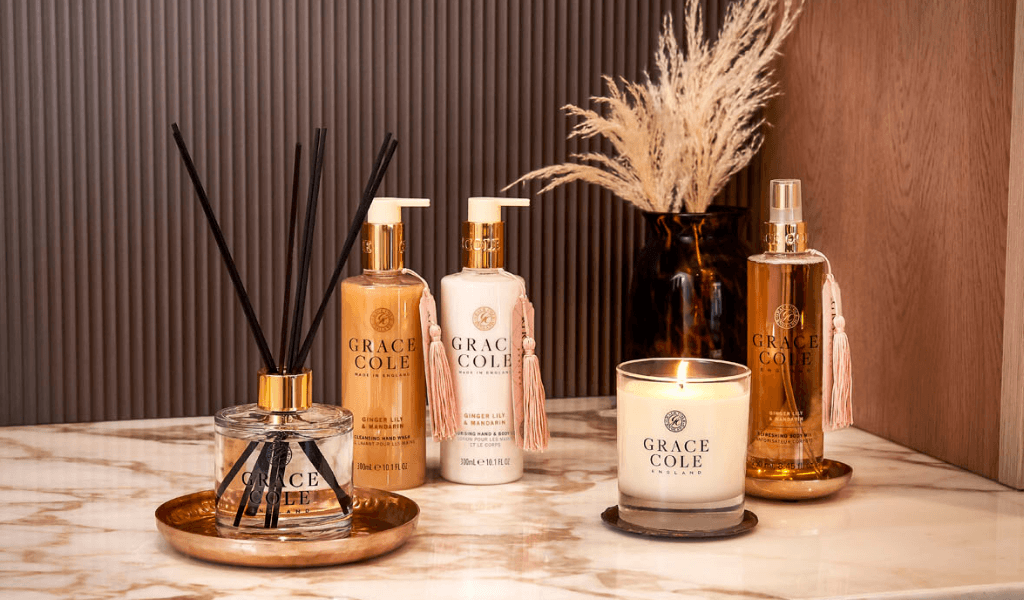 Over the past couple of years, we have been spending more time at home than ever before, resulting in us striving to make our homes as relaxing as possible. One way we can achieve this is through using fragrance to boost our at home routine and well-being. As the rooms in our homes have different purposes and therefore reflect different moods, the best way we can use fragrance is to practice 'scent-scaping'.
So, what is 'scent-scaping'?
Also known as fragrance zoning, scent-scaping is a method of dividing up the areas in your home using different scents. Choosing the right fragrance in your home is important as scent can instantly enhance moods, clarity and well-being. There are no rules with what scent you should use for each room, however there are scents that complement certain rooms better than others. Keep reading to hear our top tips on how to master the art of scent scaping...
The Entrance Hallway
The entrance of your home is the first space both you and your guests enter in your home, so choose an inviting and welcoming fragrance for a good first impression. We recommend choosing a delicate floral scent to evoke positivity and calmness, such as our Wild Fig & Cedar scent, a lovely formulation of sweet fig, juicy peach and soft plum, enlivened by tangy mandarin on a smooth base of rich cedar and vanilla. Place a Grace Cole Wild Fig & Cedar diffuser or candle near your front door to ensure the sweet fragrance is picked up as soon as you enter your home.
The Kitchen
The kitchen is where we spend a lot of our time, whether that's cooking a favourite meal, or having dinner parties with family and friends. Therefore, the space should have a clean and invigorating scent to evoke an energetic and uplifting feel. We recommend placing a Grace Cole Nectarine Blossom & Grapefruit diffuser in your kitchen to fill the room with a refreshing fruity fragrance, formulated with zesty grapefruit and succulent nectarine with sweet and playful floral notes and hints of warming vanilla. Grace Cole Reed Diffusers are handmade in England and have a long lasting fragrance of up to12 weeks.
The Lounge
Second to the kitchen, the lounge is the place in the house where people spend the most time together and relax, so welcoming scents that are also calm and warm are ideal. We recommend a Grace Cole Vanilla Blush and Peony candle, made up of pretty florals of Jasmine and Peony combined with a luxurious heart of warming Vanilla complemented by a sensual and inviting woody base. Light one on your coffee table for ultimate relaxation.
The Bedroom
Your bedroom is your own personal retreat and is probably the room of the house where you spend the most time, so it's important to get it right. Not only do you want to choose an aroma that smells good, but you also want a relaxing scent to get you ready for a good night's sleep. We recommend the Grace Cole Ginger Lily & Mandarin fragrance, a sensual blend of refreshing mandarin and aromatic bergamot, layered with exotic ginger and alluring lily on a warm base of amber and musk. Light a Grace Cole Ginger Lily & Mandarin candle whilst you are getting ready for bed to fill the room with the relaxing fragrance, guaranteed to help you achieve a restful sleep.

The Home Study
The key to creating the perfect ambiance in your home office is to encourage focus and foster productivity through uplifting and refreshing scents. To boost clarity and concentration, place a Grace Cole White Nectarine & Pear diffuser on your desk, a glorious zingy scent of luscious nectarine and English pear blended with sophisticated yet delicate floral notes of lily and rose.
The Bathroom
The bathroom isn't just a place to get clean, it's should also be a room you can relax in as you spend time getting ready. We recommend using a Grace Cole Grapefruit, Lime & Mint diffuser in your bathroom, a refreshing and uplifting fruity fragrance with zesty top notes of orange and lime blended with fresh, clean peppermint and a soft citrus heart of grapefruit. Place in your bathroom to create an invigorating scent and promote a sense of calm each time you enter your own little sanctuary.