Celebrate National Fragrance Day with our Body Mists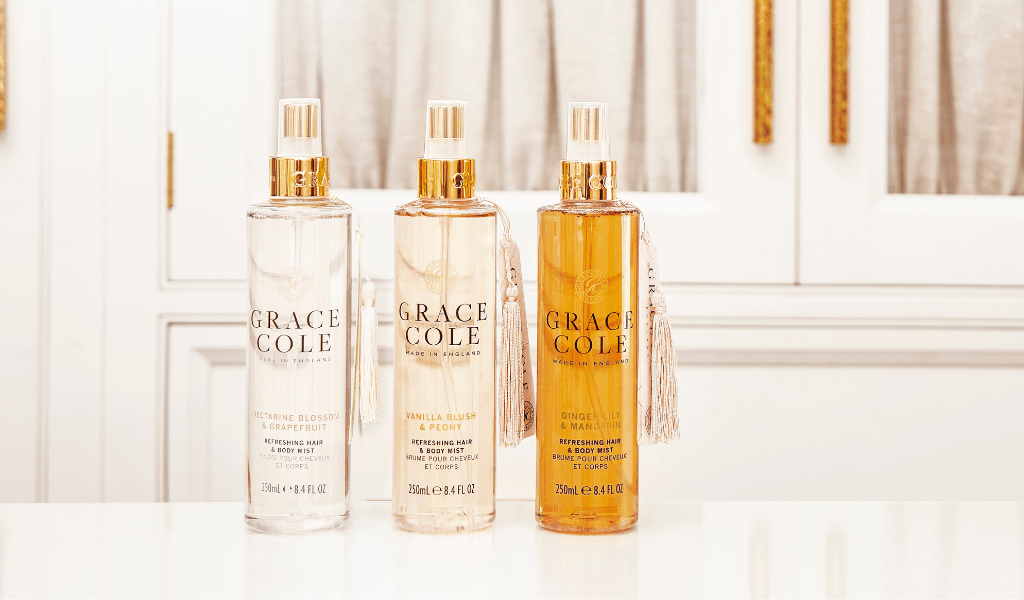 Spring is in the air, and so is National Fragrance Day! A time to celebrate our favourite fragrances and what they mean to us. For many people, fragrance is an important part of who they are, and it can take a long time to find the right one for them – but once they discover it, it becomes their signature scent that they stick to. Fragrances are also incredibly linked to memory. Have you ever been transported back in time simply by catching the scent of someone's perfume or a certain scent? Scents have the power to stir up memories that were long forgotten and even create new ones.
When we talk about fragrances, many people automatically think of perfume, but there are other wears to wear a scent, each with different concentrations of fragrance. A body mist is the lightest way to wear a fragrance and a luxurious addition to your daily beauty ritual for your skin and hair. They can be layered throughout the day to leave you feeling lusciously fragranced, without being overpowering. They are usually available in larger sizes than traditional perfumes and have a lower price point, making them a kinder alternative to your bank balance!
In addition to making you smell beautiful, Grace Cole Body Mists also have skin nourishing benefits. The hydrating formula gives skin a boost of moisture whenever it's needed, to leave skin feeling refreshed and supple. Grace Cole Body Mists are available in 6 different fragrance collections, each of which contain essential oils for additional mood and wellness enhancing benefits.
 Discover our fragrance collections and their wellness benefits below...
Vanilla Blush & Peony - Calming
The Grace Cole Vanilla Blush & Peony fragrance is perfect for Spring. Containing a combination of pretty florals of Jasmine and Peony together with a luxurious heart of warming Vanilla complemented by a sensual and inviting woody base. Also featuring essential oils of Orange, Lemon, and Patchouli for added wellness benefits including reliving stress and anxiety.
Grapefruit, Lime & Mint - Reviving
Perfect for use before or after the gym or your workout class, our Grapefruit, Lime & Mint contains an uplifting and refreshing fruity scent. With zesty top notes of Orange and Lime, blended with fresh, clean Peppermint and a soft citrus heart of Grapefruit. Also featuring essential oils of Peppermint, Orange, and Clary Sage to brighten the mood.
Nectarine Blossom & Grapefruit - Energising
The Nectarine Blossom & Grapefruit hair & body mist contains a vibrant fragrance bursting with zesty Grapefruit and succulent Nectarine with sweet and notes and hints of warming Vanilla. Also containing essential oils of Orange and Thyme to uplift and energize the soul, making it perfect to spritz after your morning shower.
White Nectarine & Pear - Restorative
The Grace Cole White Nectarine & Pear fragrance contains glorious zingy scents of luscious Nectarine and English Pear blend with sophisticated yet delicate floral notes of Lily and Rose. Featuring essential oils of Geranium and Citronella, spritz whenever you want some added balance and restoration to your mood.
Ginger Lily & Mandarin - Relaxing
A relaxing and sensual fragrance, our Ginger Lily & Mandarin hair & body mist contains an aromatic blend of Bergamot, layered with exotic Ginger and alluring Lily on a warm base of Amber and Musk. Also featuring a relaxing blend of essential oils of Mandarin & Jasmine, making it ideal to spritz after your evening bath or before bed.
Wild Fig & Pink Cedar - Balancing
A sumptuous fragrance of sweet Fig, juicy Peach and soft Plum are enlivened by tangy Mandarin on a smooth base of rich Cedar and Vanilla. Featuring essential oils of Cedarwood and Patchouli to soothe, ground the mind, spritz all over your body for a balancing effect.
 Ways to celebrate National Fragrance Day:
Wear your favourite fragrance or find a new one.
Add fragrant bubble bath to your bath, such as a Grace Cole Soothing Bath & Shower Gel.
Remember that a scent can improve a mood or become a signature style.
Place a bouquet of flowers in a vase to bring a floral fragrance to the room.
Use #NationalFragranceDay to post on social media and tag us @gracecoleltd to let us know your favourite Grace Cole fragrance .